Great News! Great Savings!
Do you like saving money? Of course, you do; who doesn't?
Well, we have great news for you! Our Protect-IT package is now even better value!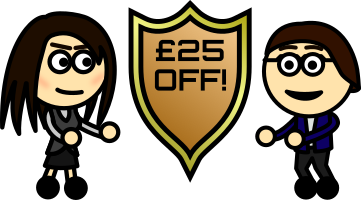 For those of you already benefiting from the peace of mind of having Protect-IT on your side, you'll see the price decrease on your next invoice, a saving of £25 per month straight back in your pocket. It's the same comprehensive package of safety features and service as before.
If you're not signed up yet, now is a great time to give yourself the peace of mind Protect-IT provides. Protect-IT goes beyond the scope of a standard anti-virus program; it offers ultimate security by defending computers not only from known viruses, but also a wide range of threats, malfunctions, and errors. With this all-round protection, you can be secure in the knowledge that whatever happens, we'll be able to handle it for you.
We offer a variety of customizations and options to the basic package, so book a call with us and we'll find the right solution for you. It's like having an IT department keeping a sharp eye out for potential malfunctions before they can disrupt your business.