About Us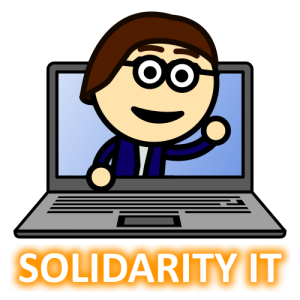 What we do
Solidarity IT Ltd. provides a single point of contact for small businesses that do not have their own IT department.
We offer support and advice to all those for whom the complexities of IT are a burden and a distraction from achieving their business's goals.
Andy Cooper
Founder & Technical Director
Andy is a versatile and capable IT Technology and Support Professional with strong computer software and hardware skills. He holds a Bachelor's Degree in Physics with Computational Modelling from the University of Surrey. Andy manages Solidarity IT as its Technical Director, guiding the business and helping it to grow and flourish.
Andy has worked in the IT departments of several major companies in the Exeter area, including the University of Exeter, the Royal Devon and Exeter Hospital, Exeter City Council.
Valerie Green
Company Secretary
Valerie is a competent and knowledgeable IT Technology Professional. She holds a Bachelor's Degree in Applied Computing with Honours and is skilled at explaining and teaching computer skills in easy to understand and clear language.
During her time working with small businesses and charities, Valerie has gained considerable experience in understanding how people utilise IT in the workplace, advising and guiding employees to better make use of the resources they have.