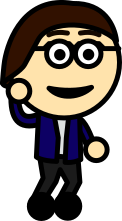 Computers are incredibly versatile tools, capable of making tasks easier in ways that many of us  don't realise, because there's so much that can be learnt.
Solidarity IT can provide bespoke training to help you make the most out of your computers in a wide range of business situations, such as integrating new employees, online banking and accounts, CRM systems, Privacy and Security, Office 365 and more...
See what we can offer by Downloading our Training Booklet. Word Processing
To help you create professional letters and other documents.
 Spreadsheets
Quick and reliable calculations for costing, book keeping, financial records and a host of other applications.
 Email
Set up one or more email accounts for quick and easy communication with customers, co-workers and other businesses.
 Address Book
Helping manage your contacts efficiently and keeping notes of anyone you meet who could be beneficial for your business.
 Scheduling
Organise your time, receiving reminders of appointments in advance and generally keeping track of plans so you don't miss an opportunity.
 Flyers and leaflets
Learn the ins and outs of desktop publishing so you can create your own professional flyers to promote the right image of your business.
 Communications
Computers can be great communication tools with a choice of voice or video chat over the Internet in addition to written communications.
Notes
Let us demonstrate how you can take notes quickly and the store them accessibly.
 Forms
Navigating and filling out online forms? Your computer may be able to help by automatically filling information when requested.
 Research
With so much information at your fingertips is there a better way of finding out about subjects of interest and comparing sources of information to reach a reliable conclusion.
 News Articles
Stay informed by keeping up with the latest industry or general news.
 Social Media
Maintain an online presence and reach potential customers but which sites are the best for you to achieve your business objectives.
Plus many more. Computers are very versatile tools. Are you using yours to its full potential?
Whether you have just a single computer or more, Solidarity IT can ensure you are getting the most value from your investment.
Our personal service can help you set up procedures that suit your business, or we can show you what could be achieved and train you so that you can do it yourself.
If you would like your IT to be able to contribute more, just click on one of the images and we'll get back to you, or call us on 01392 984 873.